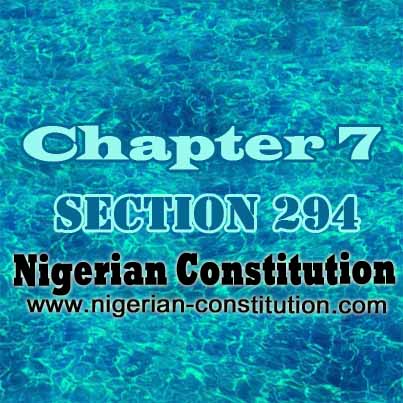 (1) Every court established under this Constitution shall deliver its decision in writing not later than ninety days after the conclusion of evidence and final addresses and furnish all parties to the cause or matter determined with duly authenticated copies of the decision within seven days of the delivery thereof.
(2) Each Justice of the Supreme Court or of the Court of Appeal shall express and deliver his opinion in writing, or may state in writing that he adopts the opinion of any other Justice who delivers a written opinion: Provided that it shall not be necessary for the Justices who heard a cause or matter to be present when judgment is to be delivered and the opinion of a Justice may be pronounced or read by any other Justice whether or not he was present at the hearing.
(3) A decision of a court consisting of more than one Judge shall be determined by the opinion of the majority of its members.
(4) For the purpose of delivering its decision under this section, the Supreme court, or the court of Appeal shall be deemed to be duly constituted if at least one member of that court sits for that purpose.
(5) The decision of a court shall not be set aside or treated as a nullity solely on the ground of non-compliance with the provisions of subsection (1) of this section unless the court exercising jurisdiction by way of appeal or review of that decision is satisfied that the party complaining has suffered a miscarriage of justice by reason thereof.
(6) As soon as possible after hearing and deciding any case in which it has been determined or observed that there was non-compliance with the provisions of subsection (1) of this section, the person presiding at the sitting of the court shall send a report on the case to the Chairman of the National Judicial Council who shall keep the Council informed of such action as the Council may deem fit.