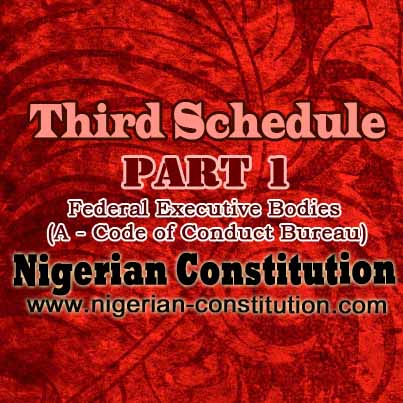 1. The Code of Conduct Bureau shall comprise the following members:
(a) a Chairman; and
(b) nine other members, each of whom, at the time of appointment, shall not be less than fifty years of age and subject to the provisions of section 157 of this Constitution shall vacate his office on attaining the age of seventy years.
2. The Bureau shall establish such offices in each state of the Federation as it may require for the discharge of its functions under this Constitution.
3. The Bureau shall have power to:
(a) receive declarations by public officers made under paragraph 12 of Part I of the Fifth Schedule to this Constitution;
(b) examine the declarations in accordance with the requirements of the Code of Conduct or any law;
(c) retain custody of such declarations and make them available for inspection by any citizen of Nigeria on such terms and conditions as the National Assembly may prescribe;
(d) ensure compliance with and, where appropriate, enforce the provisions of the Code of Conduct of any law relating thereto;
(e) receive complaints about non-compliance with or breach of the provisions of the Code of Conduct or any law in relation thereto, investigate the complaint and, where appropriate, refer such matters to the Code of Conduct Tribunal;
(f) appoint, promote, dismiss and exercise disciplinary control over the staff of the Codes of Conduct Bureau in accordance with the provisions of an Act of the National Assembly enacted in that behalf; and
(g) carry out such other functions as may be conferred upon it by the National Assembly.
4. The terms and conditions of service of the staff of the Code of Conduct Bureau shall be the same as those provided for public officers in the civil service of the Federation.