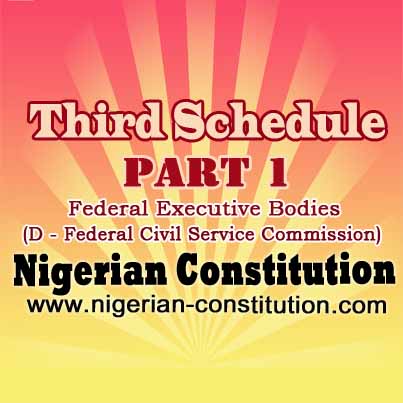 10. The Federal Civil Service Commission shall comprise the following members ¬
(a) a Chairman; and
(b) not more than fifteen other members, who shall, in the opinion of the President, be persons of unquestionable integrity and sound political judgment.
11. (1) The Commission shall without prejudice to the powers vested in the President, the National Judicial Council, the Federal Judicial Service Commission, the National Population Commission and the Police Service Commission, have power –
(a) to appoint persons to offices in the Federal Civil Service; and
(b) to dismiss and exercise disciplinary control over persons holding such offices.
(2) The Commission shall not exercise any of its powers under sub-paragraph (1) of this paragraph in respect of such offices of heads of divisions of Ministries or of departments of the government of the Federation as may, from time to time, be designated by an order made by the President except after consultation with the Head of the Civil Service of the Federation.