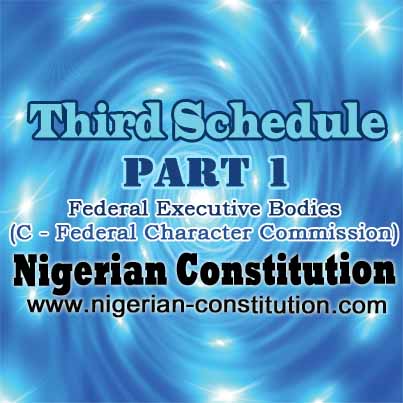 7. (1) The Federal Character Commission shall comprise the following members:
(a) a Chairman; and
(b) one person to represent each of the states of the Federation and the Federal Capital Territory, Abuja.
(2) The Chairman and members shall be appointed by the President, subject to confirmation by the Senate.
8. (1) In giving effect to the provisions of section 14(3) and (4) of this Constitution, the Commission shall have the power to:
(a) work out an equitable formula subject to the approval of the National Assembly for the distribution of all cadres of posts in the public service of the Federation and of the States, the armed forces of the Federation, the Nigeria Police Force and other government security agencies, government owned companies and parastatals of the states;
(b) promote, monitor and enforce compliance with the principles of proportional sharing of all bureaucratic, economic, media and political posts at all levels of government;
(c) take such legal measures, including the prosecution of the head or staff of any Ministry or government body or agency which fails to comply with any federal character principle or formula prescribed or adopted by the Commission; and
(d) carry out such other functions as may be conferred upon it by an Act of the National Assembly.
(2) The posts mentioned in sub-paragraph (1)(a) and (b) of this paragraph shall include those of the Permanent Secretaries, Directors-General in Extra-Ministerial Departments and parastatals, Directors in Ministries and Extra-Ministerial Departments, senior military officers, senior diplomatic posts and managerial cadres in the Federal and State parastatals, bodies, agencies and institutions.
(3) Notwithstanding any provision in any other law or enactment, the Commission shall ensure that every public company or corporation reflects the federal character in the appointments of its directors and senior management staff.
9. It shall be the duty of the Board of Directors of every state-owned enterprise to recognise and promote the principle of federal character in the ownership and management structure of the company.