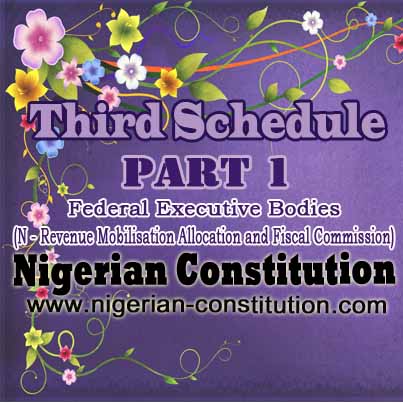 31. The Revenue Mobilisation Allocation and Fiscal Commission shall comprise the following members –
(a) a Chairman; and
(b) one member from each State of the Federation and the Federal Capital Territory, Abuja who in the opinion of the President are persons of unquestionable integrity with requisite qualifications and experience.
32. The Commission shall have power to –
(a) monitor the accruals to and disbursement of revenue from the Federation Account;
(b) review, from time to time, the revenue allocation formulae and principles in operation to ensure conformity with changing realities. Provided that any revenue formula which has been accepted by an Act of the National Assembly shall remain in force for a period of not less than five years from the date of commencement of the Act;
(c) advise the Federal and State Governments on fiscal efficiency and methods by which their revenue can be increased;
(d) determine the remuneration appropriate for political office holders, including the President, Vice-President, Governors, Deputy Governors, Ministers, Commissioners, Special Advisers, Legislators and the holders of the offices mentioned in sections 84 and 124 of this Constitution; and
(e) discharge such other functions as are conferred on the Commission by this Constitution or any Act of the National Assembly.